There is no doubt the EV market will continue to grow over the long term. While there are temporary headwinds decimating the segment at this time, investors need to understand that will eventually turn around, and when it does, I see it taking off quickly.
As it relates to NIO (NIO), the downturn has hit it harder than many of its peers because of it being based in China, the short-term disruptions in its production and supply chain, the misguided assumption it is lagging behind its peers in Vehicles delivered – even though it serves a different consumer base – and of course the risk-off economic environment associated with upcoming higher interest rates and rising inflation.
In this article we'll look at how to trade NIO in the current market conditions, why we need to compare apples to apples when measuring NIO against its peers, and what to watch out for when bag holders respond to the share price of NIO rebounding .
NIO and its Chinese peers
There are a couple of important factors to consider when comparing NIO against its two major Chinese competitors, when considering vehicle deliveries. The first is, NIO is working from a much higher baseline than its competitors, and second, it competes in a different market segment than Li Auto (LI) or Xpeng (XPEV).
For example, when a company sells a lower cost vehicle, there will of course be larger demand. NIO – which at this time competes at the higher end of the EV market – isn't even competing against Xpeng in that regard.
Even so, there are headlines asserting NIO is losing in the Chinese market based upon deliveries alone, not taking into account its prolonged retrofitting of a major production facility in anticipation of rolling out EVs that will compete at different price points in the months and years ahead .
As for delivery numbers, NIO had 10,878 in November; 10,489 in December; 9652 in January; and 6,131 in February.
Li Auto delivered 13,485 in November; 14,087 in December; 12,268 in January; and 8,414 in February.
XPeng delivered 15,613 vehicles in November; 16,000 in December; 12,922 in January; and 6,225 in February.
With production ramping up and new vehicles being released in 2022, I believe NIO's share price is going to take off during the second half of the year and beyond. It could be sooner if it surprises in the second calendar quarter. I'm not pricing that in at this time, but I think it's only going to get better from now on. A caveat would be significant impacts from COVID-19 during the remainder of the year.
The bottom line for NIO when measured against its peers is it needs to be done in a way that compares apples to apples, not apples to oranges. The overall market isn't discerning that yet, which is why NIO has dropped much further than its two Chinese peers, as the chart below shows.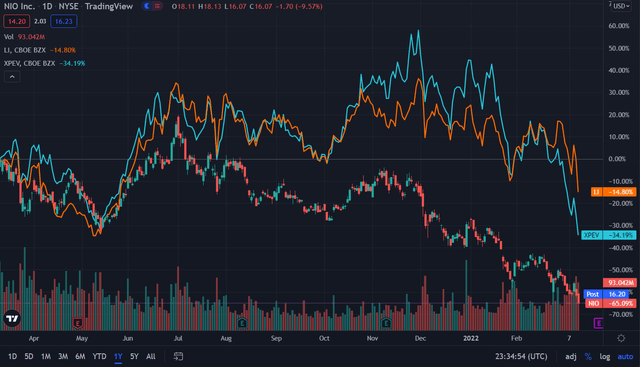 Why NIO has taken such a big hit
Beyond the perceived lack of performance against its competitors mentioned above, there are a couple of other reasons NIO has been getting crushed.
The first one is the fact that it operates in China, which has generated unwarranted fears it's going to be delisted, as a handful of other Chinese companies have been. I wrote an article addressing the delisting fear issue and why I believe it's blown way out of proportion.
At the time NIO didn't have any alternative exchanges investors to gravitate to if there was a delisting. That recently changed when the company announced it would start trading on the Main Board of The Stock Exchange of Hong Kong Limited. The market largely ignored the news, suggesting there really wasn't that much concern over the issue, as I mentioned.
The other major concern is the increase in inflation and the response of the Federal Reserve to the issue. For a time, it was believed it would take aggressive action to stem inflation, but now appears to be more dovish in its response. That is a potential positive catalyst for NIO, but I believe the market is waiting to see if the dovish comments of Jerome Powell are reflected in the upcoming first rate hike.
Economics at the macro level, along with lower deliveries than the market was looking for, are the key factors in why the share price of NIO has plummeted worse than its peers.
On the other hand, I see NIO, because of being oversold, also having a significant chance to rise much faster and higher than its competitors, as measured by percentages.
Trading NIO in a challenging environment
There are times when the best trade to make under unfavorable market conditions, is to make no trade at all. If you're not in NIO yet, this is probably the first thing to consider.
That said, the price of NIO is approaching levels we may never see again once it starts reversing direction concerning its vehicle deliveries. When that happens, I believe it's really going to take off.
If you're considering taking a position in NIO, there are two things to consider. First, make up your mind how much you want to invest in the company, and second, be sure to dollar-cost average over time because of the volatility its share price is experiencing now.
There are many NIO shareholders wringing their hands, and that's primarily because they took too big of a position at once, and didn't think in terms of position sizing and dollar-cost averaging.
While both of those practices somewhat limit the meat of the upside move, it also limits exposure to the downside as well. Since I believe NIO is going to return to its past growth trajectory, there is still a lot of upside left in the stock, especially trading as low as it is as I write, which is a little over $16.00 per share.
Be aware that the EV market is here to stay, and it will continue to grow for many years. NIO is going to be a big part of that growth, and I think as it begins to compete at different price points and different market segments, it's likely to easily surpass its past performance over time. Eventually there will be a large number of competitors to battle it out with, but that will take time to unfold, and they have yet to prove they can penetrate the Chinese market. (I'm referring to foreign competitors here with the exception of Tesla.)
What if you're already in NIO?
A lot of this doesn't help those that are already in NIO. Since I'm one of them, I'll give you a few things to think about if you're a bag holder on a fairly high cost basis.
The first thing to do is ask yourself if the EV market is one that is sustainable over the long term. I believe the answer to that is obvious, so in that regard it's a plus for NIO at even at a high entry point.
Another thing to consider is if it's worth cutting losses in order to redeploy your capital in order to build your account back up. That would be predicated upon whether or not you have legitimate options to invest the capital in.
As mentioned, with the price of NIO so low now, it will probably be hard to match its growth from this point on in this economic environment. It could drop further of course, but the downside is much more limited than it was a short time ago, and there are more tailwinds in the near and long term than there are headwinds.
For those that entered near the top of the 52-week high, it's going to take a while for it to reach that level once again. If you positioned sized and aren't in with a sizable amount of capital, I don't think it would be that big of a deal to patiently hold your shares and wait for the share price to come back to you.
If you're in for a lot of money, you'll have to decide whether or not it's worth holding on. Again, if there are no alternative stocks that have the potential to grow from where NIO is now trading, the best thing to do is probably to wait until it at least starts to rebound to get some of your capital back.
That brings us to a point for those in at a lower price point or are thinking of taking a position now in NIO. The investors I was just talking to are bag holders to one degree or another. What that means for investors taking new positions is, once the share price of NIO starts to climb again, they're going to start to sell off in order to get some of their capital back, as I suggested as a possibility.
The consequence of that is it usually holds the share price down because shareholders start to unload their stocks in potentially large numbers. When that plays out, it can confuse some shareholders if everything else seems to be looking good for a company like NIO.
That's important to understand because shareholders could be tempted to sell off because of the wild swings in the share price of NIO lately, especially when it collapses. The point is, that normally is a temporary anomaly that works itself out.
Nonetheless, you can always take some profits and re-enter at a better price point, or at least sell a portion of your shards to lock in profits.
Just be aware that there has to be a lot of NIO bag holders out there, and when the stock starts to climb consistently, they're going to sell to recoup some of their losses. That top will remain in place until bag holders have exhausted their selling spree.
Conclusion
I'm not concerned about my position in NIO and have acquired some more shares as it continues to drop. I'm doing this thoughtly though, following my own advice concerning position sizing.
Although I believe NIO is going to take off again, the fact remains is I'm not going to be a fanatic about it and go all-in on the stock, even at these low prices.
My thought in regard to its peers is that many investors aren't properly categorizing its vehicles and their price points against the segment of the market its competitors are operating in.
The good news is over the next couple of years NIO should be competing in most of the segments of the EV market, and with its production ramping up through the remainder of 2022, the number of deliveries should rise significantly. It may take another quarter before that happens, but when it does, it's going to be goodbye to the low price entry point we're seeing now.
Nothing has changed with the EV market, and nothing has changed with NIO. I believe it has the potential, because of it being oversold, to spring back more than its competitors as its deliveries rebound, and it expands its addressable market.
Could NIO drop even further? Absolutely, when considering the fear that is causing capital to rotate out of high-growth tech stocks into safer investment vehicles.
But this is only a temporary blip in the EV market at large, and NIO in particular. For the patient investor, it's going to generate some solid returns over time, if they don't panic out of the market.
Finally, as mentioned earlier, if your cost basis is high, think in terms of how you could better deploy your capital if you sell your shares of NIO. I don't think it's going to take long before it reverses direction, and when it does, you'll probably do much better than selling now and taking a position in another company that will struggle to match NIO's growth from this point on.