From adorable plushies to elegant glassware, celebrate May the 4th with 12 of the best gifts for the Star Wars fan in your life!
By clicking on these shopping links, visitors will leave Localish and ABC's Owned TV station sites. These e-commerce sites are operated under different terms and privacy policies than ABC Localish. ABC will receive a commission for purchases made through these links. Prices may change from date of publication.
1. LEGO Darth Vader Helmet
Pay homage to the Dark Lord of the Sith with this collectible LEGO Star Wars Darth Vader Helmet. Immerse yourself in the complex building process and relive classic Star Wars saga scenes as you recreate the iconic shape and sinister details of the helmet in LEGO style.

Image credit: LEGO
2. Star Wars x Girls Crew Collection Earrings
Star Wars x Girls Crew is back with all-new designs based on your favorite characters, creatures and more!

Image credit: Girls Crew
3. The Child Flip-Top Canteen
There will be fewer spills even on galactic travels with this Star Wars: The Mandalorian-inspired canteen design. The cap features screen art of The Child's face and 3D ears. Just tilt it back to reveal the pop-up straw. With a wide base and an adjustable carrying strap, they'll always have an out-of-this-world pal to sip with.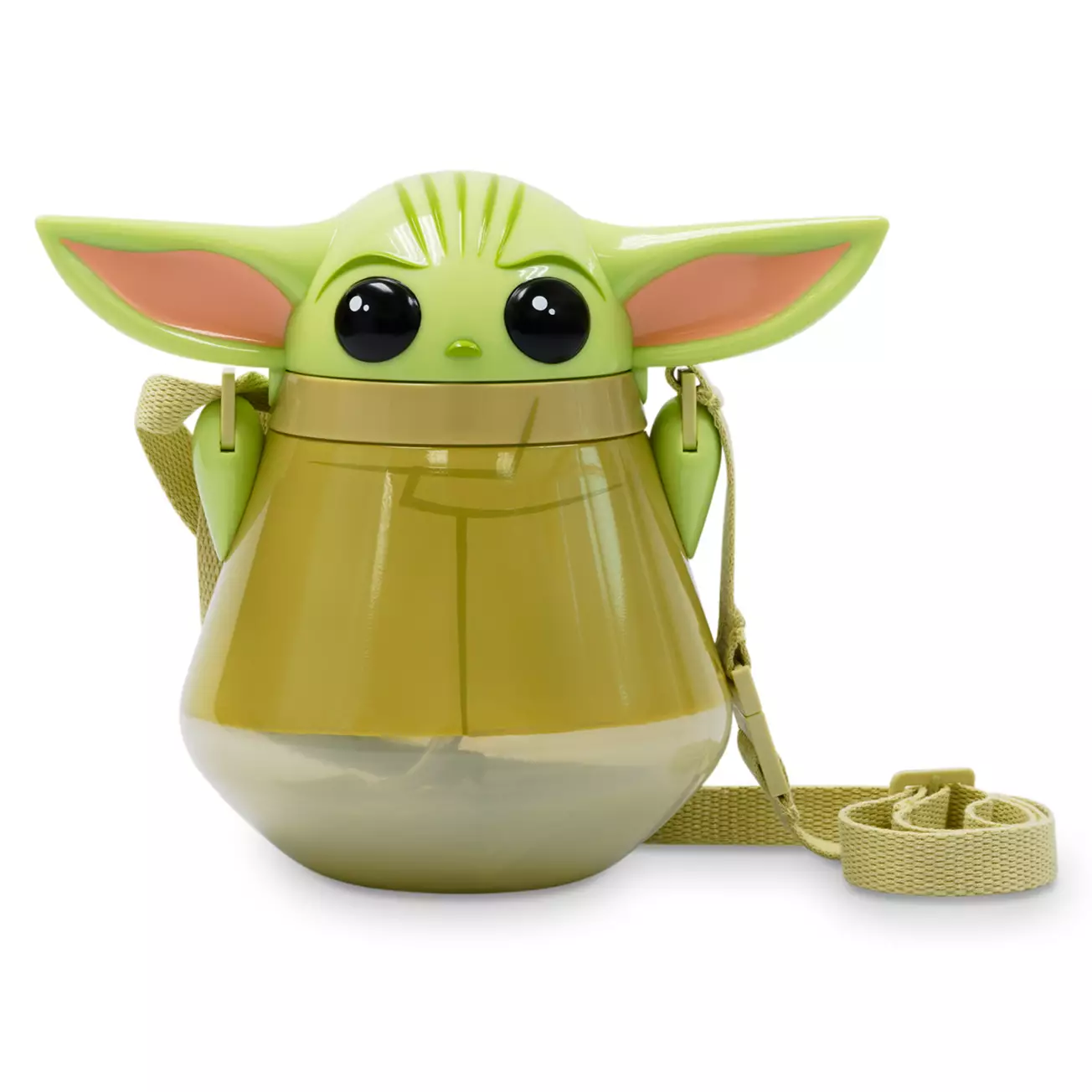 Image credit: Disney Store
4. ColourPop A New Hope Makeup Set
This New Hope-themed makeup set is complete with eye shadow palette, lip gloss, lipstick and chrome eye shadow.

Image credit: ColourPop
5. Death Star Cheeseboard Set
That's no moon — that's a space station! No, wait, it's a fully operational Death Star split-level cheeseboard that swivels open to reveal four stainless steel cheese tools: a cleaver, planer, fork-tipped knife and spreader.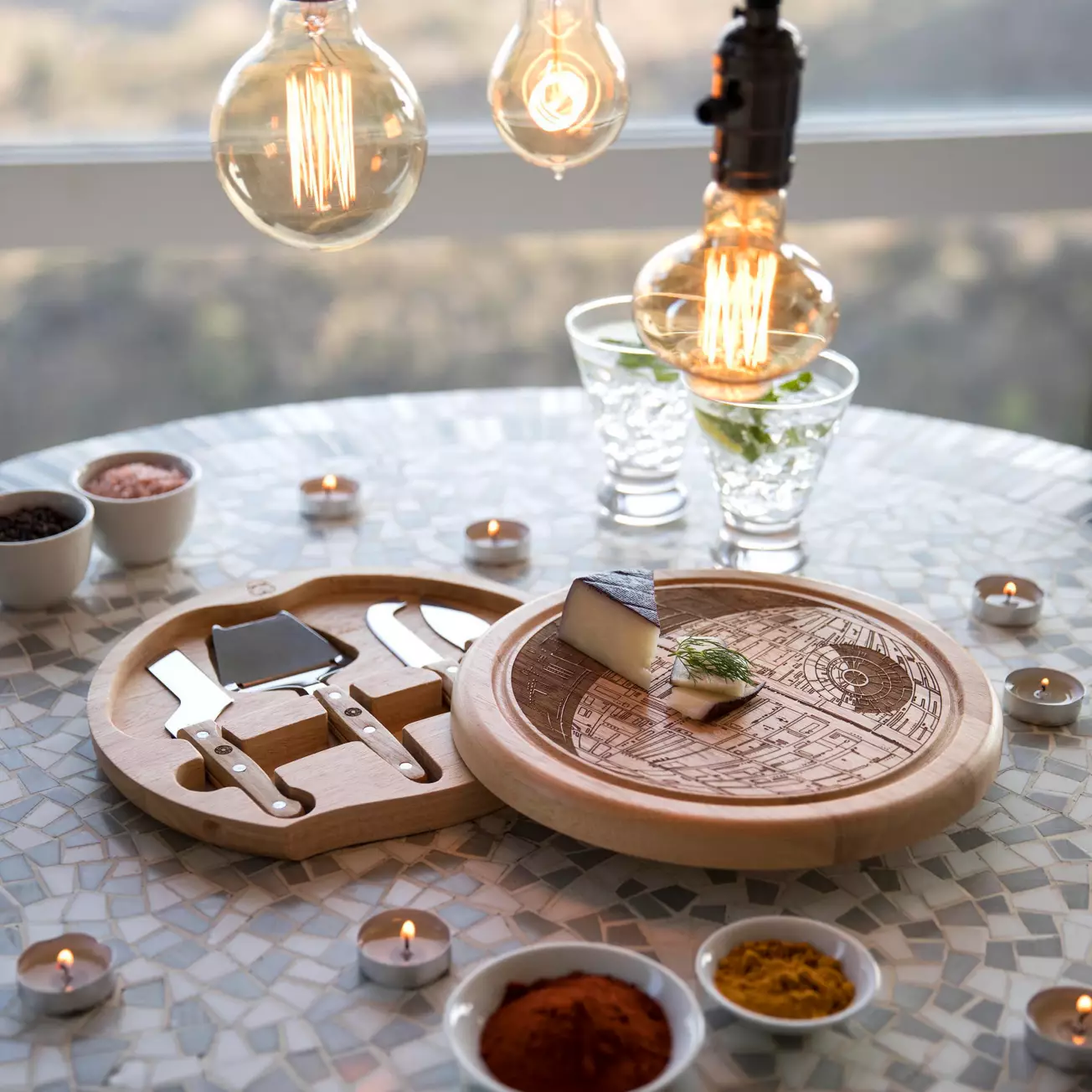 Image credit: Disney Store
6. Love Your Melon Star Wars The Child Seaglass Bucket Hat
Inspired by the adorable 50-year-old member of the Yoda species known as The Child, this bucket hat is the perfect addition to your wardrobe! This seaglass bucket hat features The Child embroidered on the front and the Love Your Melon logo on the brim. These bucket hats are perfect for any intergalactic adventure!

Image credit: Love Your Melon
7. Mattel Galactic Pals Plush
Star Wars fans can bring home some of the most adorable creatures in the galaxy with Galactic Pals plush characters! Featured on the Star Wars Kids YouTube channel, the Galactic Pals are young creatures from across the galaxy, eagerly awaiting someone to take them home. Designed with a soft plastic head, sparkling eyes and a plush body, each cute creature includes a carrier and a personality profile — fill in the soft character's name and uncover its personality. This endearing line of Star Wars plush will captivate new and existing fans of all ages from across the galaxy. Play out intergalactic adventures and nurturing moments. The soft dolls make a great gift for fans and collectors.

Image credit: Star Wars Kids
8. Galactic Snackin' Grogu
With a galaxy of features — including adorable sounds, fun animated motions and interactive accessories — this Galactic Snackin' Grogu animatronic toy is ready for action and adventure!

Image credit: Disney Store
9. New Goldfish Star Wars The Mandalorian Cheddar Crackers
New Limited Edition Star Wars the Mandalorian Goldfish crackers are on shelves now featuring shapes of Grogu, the Mandalorian and Stormtroopers.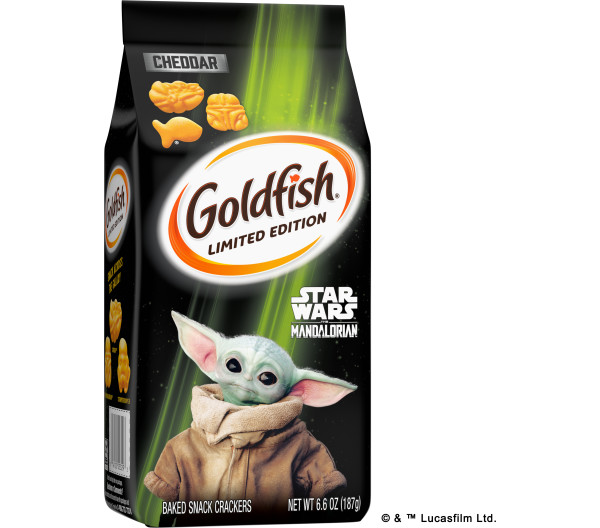 Image credit: Pepperidge Farm
10. A Jedi You Will Be Book
Learn how to use the force in this hilarious and stylized picture book narrated by everybody's favorite Jedi Master, Yoda!
For every book purchased on shopDisney.com from now through Dec. 31, 2022, Disney will donate a book to First Book, a non-profit organization dedicated to providing new books and resources to educators who serve children in need.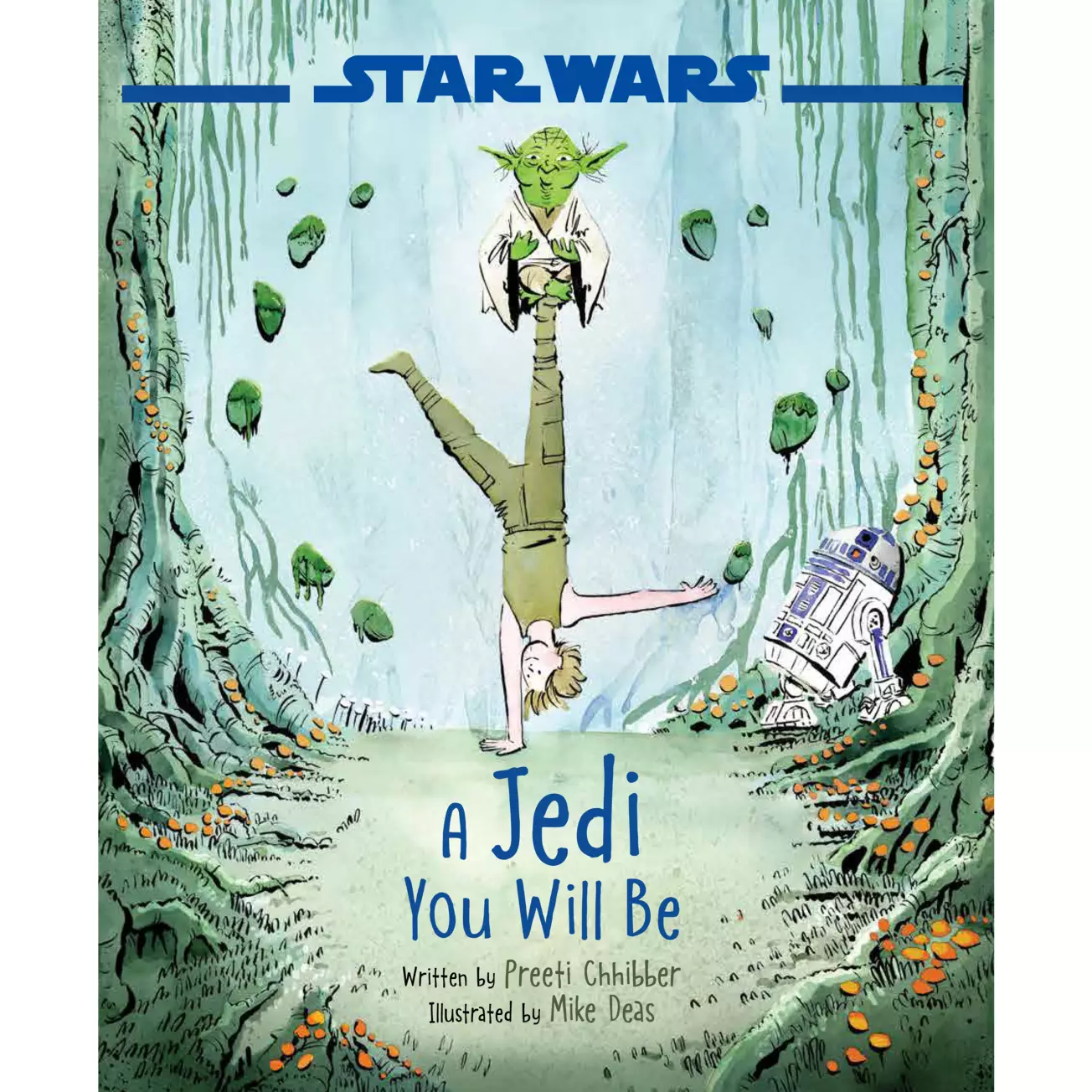 Image credit: Disney Store
11. Han Solo and Princess Leia Beverage Gift Set
For the Star Wars lovers across the galaxy, this Han Solo and Princess Leia beverage gift set is the perfect addition to your collection. The Acacia wood box features dovetail joinery and beautiful engraved designs of the Millennium Falcon and the silhouette of Princess Leia. Underneath the sliding front panel sits two 12-ounce Han and Leia fluted glasses, cork coasters and a bottle opener.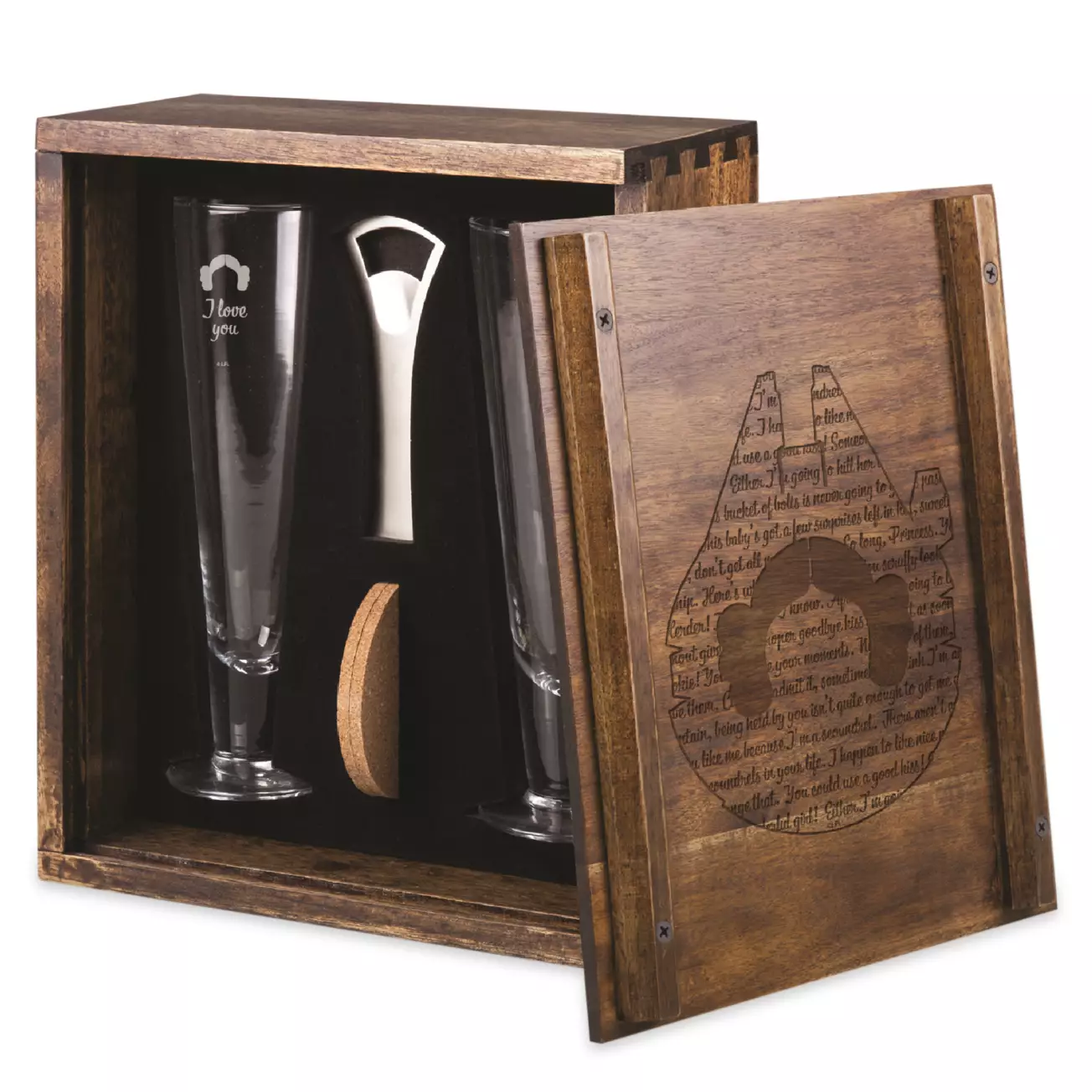 Image credit: Disney Store
12. Headspace 12-Month Subscription Card
Join Headspace for online meditation and sleep exercises with Star Wars themes and characters.

Image credit: Headspace
The Walt Disney Co. is the parent company of Lucasfilm and Localish.
.