Just miles away from the most populous city in the United States, machine-gun fire and rockets pummel the woodlands of central New Jersey. It's a normal day for the "Red Dogs" of the US Marine Corps Marine Light Attack Helicopter Squadron 773 (HMLA-773).
The Air Force may take the lead the US military power in the skies, and the Navy's own aerial wing plays a critical role of its own, one made popular by the 1986 film "Top Gun" and its new sequel. But the Marines have their own formidable aviation force that is expected to deploy at a moment's notice in the event of a crisis either at home or abroad.
As the Marines of HMLA-773 went about their routine live-fire readiness exercises last week, Newsweek editor-at-large Naveed Jamali rode along as part of a visit to Joint Base McGuire–Dix–Lakehurst (JB MDL), a massive military complex that constitutes the only US military installation in the tri-state area to house all branches of the armed forces.
Jamali discussed his experience in a Newsweek interview previewing the upcoming release of his series Unconventional, set to premiere online Friday. The episode will feature footage of the trip, as well as insight into the significance of the Marines' activities there.
Speaking with NewsweekJamali outlined what he saw and why it matters.
The interview has been lightly edited for clarity.
Newsweek: As a New Yorker, I imagine you go to New Jersey fairly often, but this trip seemed a little different. There were helicopters, machine guns, Marines, a lot going on there. Could you tell us a little bit about where you went, what you did, and why you did it?
Jamali: So, in central New Jersey most people probably don't realize that there is a significant military base. Joint Base McGuire–Dix–Lakehurst. Lakehurst is infamous for being where the Hindenburg blew up, but it is here that these three bases that are combined, and they have a massive footprint. If you took the population of Fort JB MDL and you put it in Wyoming, it would be the biggest city by area and the third biggest by population. There's a really big military presence here, including a training range where they shoot, where helicopters practice aerial gunnery, and even attack aircraft use it as a range.
So this is just part of the fabric of having a military that has to be ready to respond to any national security incident. Part of that is training, and part of that happens, shockingly, in central New Jersey.
Newsweek: And there was some actual training going on while you were there. What exactly were these Marines training for?
Jamali: We were flying with the Fourth Marine Air Wing, specifically, Marine Air Group [MAG] 49, which is a composite squadron. That means that it flies two types of aircraft, the Huey and the Cobra. These, of course, are recognizable if you've seen Apocalypse Now. They are Vietnam-era helicopters in shape, but everything else about them is completely different. They're modern aircraft, they have new engines, and have four rotors instead of two.
And look, flying, as we learn, Tom, is a very perishable skill, and so in order for these pilots and the crews and the maintainers to stay current in order for them to be able to respond to that national security event, they have to keep flying. They have to hone their skills, and we were lucky enough to go along with them for two major training evolutions. One was a live-fire on the Fort Dix range, where we had a Huey and a Cobra, and the other was a navigation in one of the most congested airspaces in the world over New York City. So we were able to do both, and it was just an amazing experience.
Newsweek: In the footage, I saw you passing some landmarks pretty close to New York City, including the Verrazano Bridge, which I can only imagine was a salute to me in Staten Island. Where exactly did this trip take you?
Jamali: [Laughs] So it started off at McGuire Air Force Base, which is where the MAG is stationed, and we took off from central New Jersey. From there, there was considerable weather so they had to kind of navigate through the weather and they flew, as you said, over the Verrazano Bridge and then into Lower Manhattan, which was a little hat tip to Newsweek. Newsweek's office is on the 72nd floor of the Freedom Tower, and we flew over it, and then flew up the Hudson River. Because of weather, we could only go as far as Chelsea Piers, and then we circled back to the Statue of Liberty and then south along the Jersey Shore.
Newsweek: Since you have a military background, some of the stuff that you saw and spoke about might be a bit more familiar to you than to the average person. But your service was very different. Can you tell me a little more about what you learned during this whole experience?
Jamali: So while it might look like, and it was, a wild, bucket-list experience, it's important to note that this is all about training. It all serves a function, and again, just like any skill, flying is very much a perishable one. And what I learned specifically is that it is incredibly important that these Marines do this type of flying, whether it's shooting at targets or just navigating busy airspace, because it prepares them to deploy and respond.
And we're seeing it in Ukraine now with Russia. The Russian forces were clearly not prepared for that. And this shows how important training is for these Marines and members of the military in order to respond. They're not fighting, and this is non-combat, but they're preparing for that eventuality.
Newsweek: I'm glad you mentioned that, because I wanted to talk a little bit more about the broader implications of the whole experience and the training itself, especially as it relates to military preparedness, specifically at a time when we're seeing heightened geopolitical tensions around the world with the likes of Russia and China. Could you speak a little bit more about the importance of US military preparedness, and how you saw the Marines' commitment to it on a regular basis?
Jamali: So the thing that struck me is that, if you're in traffic or you're walking, and you look up and you see a military aircraft flying, you see them flying, and that's the very visible part. The part that isn't visible to all of us is the part that goes in before that aircraft ever takes off and long after it's landed. There's a tremendous amount of paperwork. There's a tremendous amount of maintenance and a tremendous emphasis on safety. Everything is safety, safety, safety, and all that adds time and resources and manpower and money. And that's the part that I found to be really, really interesting.
But what I also saw is that, in a time of crisis, while it can take 10, 20, 30 or even 45 minutes to brief before you take the helicopter up, if the call came in, they can be ready to go at the drop of a hat, and that's because they trained.
The other thing, Tom, that I can tell you was fascinating is that we were flying with them and, at one point, when we were doing the live-fire, the 50-cal [-50-caliber machine gun] on one of the doors created a pressure change, and that pressure change blew up one of the windows. And for the Marines, it was nothing. They didn't even flinch. Nothing. They kept on firing and they kept on training.
And I think that was a very clear indication of how important training is, that there's so much that they have to adapt to, including, in our case, the weather. We were flying at one point and we heard that were skydivers, and so they had to divert.
But none of these things faze them, and it doesn't faze them because they're so confident in their experience, because they have so much experience that when they're flying and something happens that is unexpected, they can adapt to it. You can listen to their voices on the radio. There was no raise in octave, they were just calm. None of this really changed their heart rate. They were confident in their skill to adapt to it. And it really, really showed, and I think that's a reflection of the training.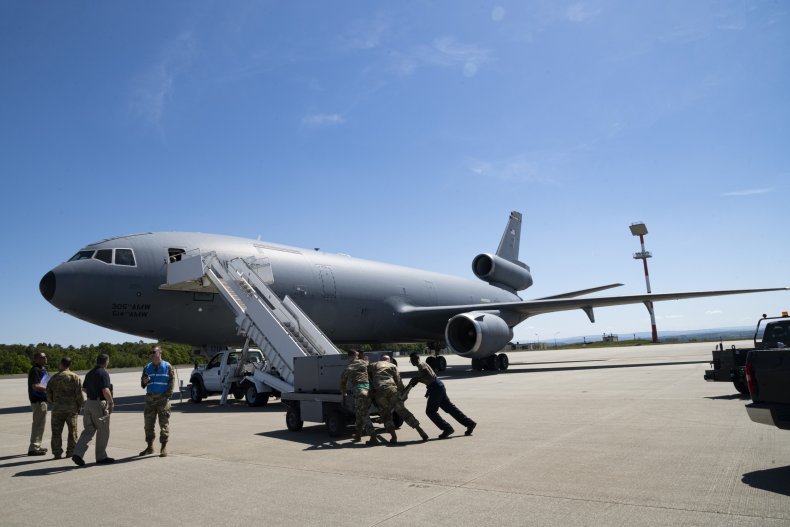 Newsweek: Now we're talking about a base sitting near one of the most important cities, and the most populous city, in the US How do you see the emerging balance between a focus on forward-deployed foreign bases abroad on one hand and the homefront defense posture?
Jamali: It's a really important question. So in the backdrop of this is McGuire Air Force Base, which is primarily an airlift. There were some F-16s there, but primarily C-17s and refuelers. And C-17s, of course, are cargo aircraft, and they were flying as we were taking off.
McGuire Air Force Base was part of the Afghan airlift. That's where Afghan refugees were processed and, eventually, 852 Afghans were brought from Afghanistan and relocated into the United States, but McGuire Air Force Base was their first stop. There were babies born on C-17s that landed in McGuire.
So you know the backdrop of this, we talked about forward-deployed, is the fact that C-17s are probably flying things that are connected to Ukraine. And the Marines, while they're in central New Jersey, if they are going to forward-deploy, their helicopters are most likely going to fly on those C-17s. So you can imagine that the Marines, while they're in central New Jersey, while they're going to Six Flags on the weekends, if the call came, they really could load those helicopters onto C-17s and really be anywhere in the world in a matter of days.
Newsweek: That's incredible. I think this will be a really eye-opening experience for both readers and viewers for those who see the episode when it's out. What else do you plan to explore in this series?
Jamali: So I'm very excited, we have two upcoming series. One is we are going to fly with the Navy onto an aircraft carrier that's finishing its workups before it deploys. So we're going to fly on what's known as a carrier onboard delivery (COD), which is a propeller-driven aircraft. They will fly from the beach or an airport, and then they will land on the carrier. We're going to load cargo onto it and then get back on and fly out. We're to cover how logistics support aircraft carriers that are out to sea, and then we have some other episodes including flying in a B-52, which I'm extraordinarily excited about.
But really the goal here is to cover the people, though, so we sort of have two standing rules. One is we don't want to do any sit-down interviews, and two, if Al Roker has done it before, we don't want to do it, right? [Laughs]
We're trying to find stories that haven't been covered before. And part of that really focuses on these young Marines, airmen, soldiers, sailors, Coast Guard, even Space Force. We're trying to find the stories that aren't normally told and just explain to the outside world what these lives are, what their days are like, and humanize them. And so I think that no matter where we go, that's really going to be a focus, to tell the story by talking to the people and showing what they do.