Article content
A drone flying over the Imperial Oil tank farm in Sarnia provided a new tool for officials taking part in Monday's Emergency Preparedness Week simulation Monday morning.
Article content
Emergency crews from Imperial Oil, the city and industry partners were involved in the exercise built on the scenario of a lightning strike causing a fire at the company's tank farm.
The simulations have been a tradition in the Sarnia area for decades and are organized by a long-standing industry and municipal emergency response partnership that is part of the Bluewater Association for Safety, Environment and Sustainability (BASES.)
Imperial Oil provided video of the exercise, including drone video, for community groups watching from the company's research centre.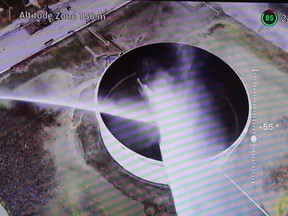 "Over the course of the last couple of years, we've had some challenges onsite with getting people into places that we need to because of the pandemic," said Carl MacMillan with Imperial Oil's safety department.
"It has caused us to look at how we can leverage technology in different ways," he said.
That included providing a live stream video for visiting community representatives safely away from the site of the exercise, with views from both stationary camera as well as a drone equipped with a camera.
"It's pretty cool to be able to actually look at how the simulation is progressing, or how the fire is being fought," MacMillan said.
It was also an opportunity to test the technology in an "almost real-life situation" to learn how to apply it during real emergencies, he said.
Drone images allow responders to see if foam they are applying is getting to where it needs to be and if the fire is growing, he said.
Article content
"Having that sort of eye in the sky, drone footage is going to be something we'll really look to leverage in the future," MacMillan said.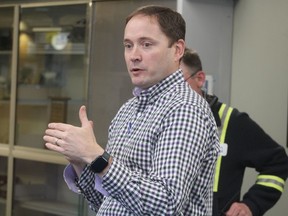 Refinery manager Glenn Hayes said drone technology is something Imperial Oil has begun trying out recently.
"If there was an actual event, the ability to send a drone instead of a human to provide real-time feedback to first responders is invaluable," he said.
Emergency exercises like the one held Monday are also available tools, MacMillan said.
"We can plan until we're blue in the face but when you actually get to do a simulation – get people stood up and doing the things you're planning for – that's when you start to see if that plan is going to be manageable ," he said.
Other activities taking place locally during Emergency Preparedness Week include a breakfast gathering Tuesday for a debriefing of the exercise, as well as an Industrial Education Corporation joint health and safety committee forum Wednesday, an air monitoring station installation at Paddock Green Park Thursday and an air monitoring station dedication at Aamjiwnaang First Nation Friday.
Vince Gagne, general manager of BASES, said simulated exercises have been held in the community since the 1950s.
"We'll keep pushing risk down and make sure we protect our public," he said.
pmorden@postmedia.com